deutsche versionHerzberg can easily be reached by car or public transport.
The train will bring you directly from Basel, Bern, Zurich or Zurich-Airport to Aarau or Frick, from where a public bus will take approx. 15 minutes to reach the bus stop "Staffelegg, Passhöhe". From this point the Herzberg minibus will pick you up on request (please call Max on tel. +4179 510 16 03 or the Herzberg reception at +4162 878 16 46 to order the Herzberg bus).
SBB Train Timetable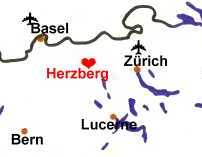 By car: Take the road connecting the cities of Aarau and Frick, and turn off towards Herzberg when you reach Staffelegg. From there follow the Herzberg-signs.
We shall gladly assist you with any travel queries you may have.