deutsch / english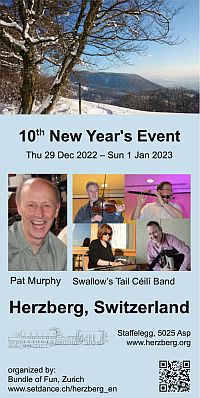 From 29 December 2022 starting 2.00 p.m.
to 1 January 2023 after lunch, approx. 2.00 p.m.
with Pat Murphy as set dance teacher
and three ceilis with the Swallow's Tail Ceili Band
in Herzberg
Our venue Herzberg (in English "Mountain of the Heart"), is wonderfully situated at the end of the Jura mountains at an altitude of 700 metres, with a great view towards the Swiss Alps.
Costs for all workshops and ceilis during the entire event: CHF 140
To receive more information, please send an e-mail to setdance.ch@gmail.com
Accommodation
deutsche versionHerzberg offers single and double rooms as well as a few shared rooms (with 3 – 4 beds and bathrooms to share).
Costs per person for accommodation (three nights) and all meals
| | |
| --- | --- |
| double room with shared bathroom | CHF 290 |
| double room en-suite | CHF 350 |
| single room with shared bathroom | CHF 350 |
| single room en-suite | CHF 440 |
Please inquire re prices for shared rooms.
Thank you for mentioning your room preference with your registration – we will try to comply with your requests.
The following cancellation fees will be charged by the venue, Herzberg, and we therefore also have to pass them on to the participants:
In case of a cancellation from 50 days before the start of our event 30%, from 22 days 50% and from 7 days 70%.
We recommend that all participants take out appropriate insurance.
How to get there
Herzberg can easily be reached by car or public transport.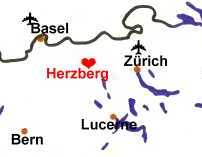 The train will bring you directly from Basel, Bern, Zurich or Zurich-Airport to Aarau or Frick, from where a public bus will take approx. 15 minutes to reach the bus stop "Staffelegg, Passhöhe". From this point the Herzberg minibus will pick you up on request (please call Max on tel. +4179 510 16 03 or the Herzberg reception at +4162 878 16 46 to order the Herzberg bus).
SBB Train Timetable

By car: Take the road connecting the cities of Aarau and Frick, and turn off towards Herzberg when you reach Staffelegg. From there follow the Herzberg-signs.
We shall gladly assist you with any travel queries you may have.
Timetable
Thursday 29.12.
Friday 30.12.
Saturday 31.12.
Sunday 01.01.
Breakfast
Starting 14:00: arrivals
08.30 – 09.30
08.30 – 09.30
08.30 – 09.30
Workshop
10.00 – 12.30
10.00 – 12.30
10.00 – 12.00
Lunch
12.45
12.45
12.15
Workshop
16.00 – 18.00
14.30 - 17.00
14.30 – 17.00
Departure: ~ 14:00
Dinner
19.00
18.30
19.00
Ceili with live music
20.30 – 24.00
20.30 – 24.00
21.30 – 02.00